Strengthening Economies - Collaboration! Financing! Resilience
2030 Agenda is a plan of action for people, planet, and prosperity. It seeks to strengthen economies and address global challenges, which is an indispensable requirement for sustainable development. Sustained and inclusive economic growth especially among the least developed and developing nations can lead to new and better employment opportunities and provide greater economic security for all.
The 17 SDG goals and 169 targets offer us an integrated perspective to combat the global crisis, economic recovery, and development. With less than 10 years left to deliver the Sustainable Development Goals (SDGs), it is more important than ever for the global community to mobilise for accelerated action. Delivering the SDGs in less than a decade will demand ambition, decisiveness, and a sense of urgency.
United Nations Secretary-General, António Guterres, has outlined seven priorities for the intergovernmental organization in 2023, providing a 'roadmap' for human rights. Global risk report 2023, lists top 10 risk areas – with impact over a period of 2 years and 10 years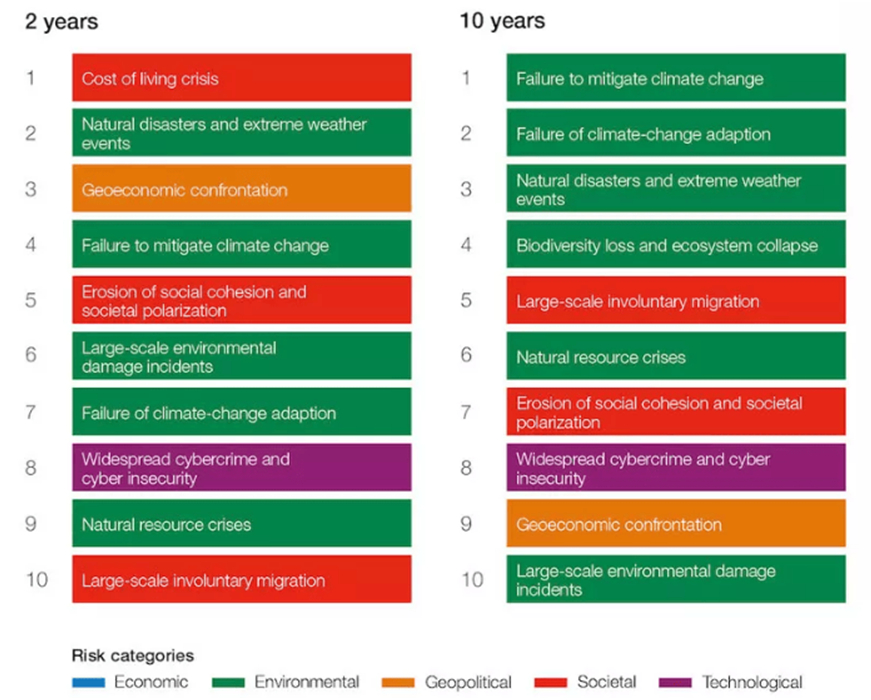 The Business Statement
---
"Environment conservation is commitment & not compulsion for India."
- PM Narendra Modi
PM Modi emphasized on the commitment of individuals as well as organizations towards environment conservation. Preserving the environment is key to support sustainable economic growth as the natural environment plays an important role in supporting economic activities. It contributes directly, by providing resources and raw materials such as water, timber and minerals that are required as inputs to produce goods and services; and indirectly, through services provided by ecosystems including carbon sequestration, water purification, managing flood risks, and nutrient cycling.
There is need for transition towards renewable and alternate sources of energy, and the adoption of technaology and innovation measures to find solutions to urban challenges. It is seen globally that many nations are adopting a multi-dimensional approach to chart a long-term roadmap for sustainable and environment friendly lifestyle.
"As per the Business & Sustainable Development Commission, sustainable business models related to the SDGs could open economic opportunities worth up to $12 trillion and increase employment by up to 380 million jobs by 2030".
Key areas for business to focus on :
02
Recycling, Water and waste management
Businesses have a major role to play in recalibrating to an economic system that supports sustainable growth and profits. We must set ambitious goals, measure ourselves differently, account for our actions and collaborate across organizations, industries, and regions.
We all understand the key role the government and business can make to implement decisions that can have a real and lasting impact on society and the environment, for the better or the worse, and across the short and long term. Both are bringing concerted efforts to align their strategies and sustainability efforts to best prepare for any future black swan events.
Responsible investments by businesses through the allocation of capital on sustainable equipment and other assets like green technology, will ensure long-term "good" and inclusive and sustainable growth.
The analysis of interrelation between sustainability and business continuity resilience is paramount to ensure smooth functioning of business by designing the following.
Leading companies are already acting, but time is of the essence. More must join, so we can move faster, together, into a sustainable future.
Time for Action
All countries and all stakeholders are acting in collaborative partnership, to implement on the 2030 agenda and are determined to take the bold and transformative steps which are urgently needed to shift the world onto a sustainable and resilient path.
To amplify, secure and strengthen the existing efforts, there is need for all the local, national, and global partners to come together. The urgency of this decade demands that all sectors of society galvanize to secure greater participation and leadership, more resources, and improved, game-changing solutions to address increasing inequality and the escalating climate emergency. As we embark on this collective journey, we pledge that no one will be left behind.